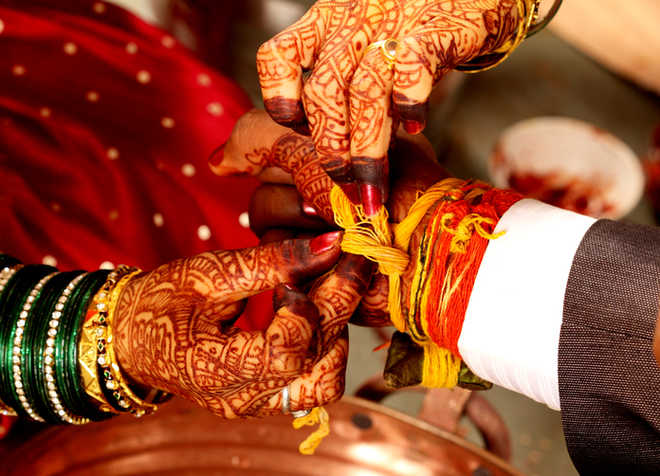 MY TIMES TODAY. A typical relationship where two souls get attached to one relationship and indeed  its a marriage. No doubt searching a perfect match in today's world is tough job. There are soo many mediators in between the two families. These families communicate through these mediators. The basic roles of mediators:-
1. Arrangements of meetings of the two families in every two months.
2. Indirect mode of dowry.
3. The basic demands of boy's mother day day which increases each single minute.
4. The price of clothes which are to be given to the groom's family.
5. Vehicle demand the very needy one it can be bullet or four wheeler depends how rich the family is.
6. Gold jewelry allotted to the groom his sister, his father and if more much required.
7. Groom's shopping in which they include theirs also.
As i am 25 and my father is searching a perfect match for me. Some of them are not well educated. Some are cheap and demanding. Some of them wants maid in marriage. Some of them don't want thier daughter-in-law to get a job. Some of them want she should stick with the village house and his husband to earn outside the state.
A lot more is there to explain but i would like to make aware of grooms price tags because this can help you to eliminate the type of husband you will get and what are the further agreement of the people looking in one bride. She should be :-
Fairer
Minimum qualification is higher education that is okay and maximum turns to bachelor of arts.
She should not have any real brother.
Obedient nature.
Reasy to change behaviour.
Here comes the list of price tags which are deciding factor for your life partner:-
1. Doctor- if the groom you are looking for is doctor before you think your future with a man like him please check you have 30 lakhs in your pocket with including marriage expenses with the budget.
2. Assistant commandent- sounds like the person has cleared UPSC exam with a very low rank so he has been placed to paramilitary forces. Undoubtedly the groom may be bwith his knowledge but still he will demand a amount of minimum 25 lakhs.
3. Government engineer- so being an engineer in today's life is more tough than words because their work has been overtaken Information technology students. As they get higher amount of salaries in comparison with IT student. Government engineer are in great demand as their profile adds up in a government sector with a package of minimum of 12 lakhs. So they demand around 20 lakhs and a fair girl with minimum qualification.
4. Banking professionals- banking professionals are also in great demand as they hefty amount from their banks. It can be private or government salaries are nearin amount. These banker get a amount of 15 lakhs with minimum qualification of the girl with fairer colour.
5. Patwari- these demand a minimum amount of 12 lakhs.
6. Businessman- A smart handsome boy in a businessman's family. The dowry cases vary with different situation sometimes they will demand approx 10 lakhs and sometimes negligible amount.
7. Constable/ sub-inspector in paramilitary forces- a brief amount of 10 lakhs is expected in this cases where a boy demands atleast this much amount.
8. Jobless groom- the groom who do not have a small job with the minimum amount of 10 thousands demand atleast 5 lakhs of Indian rupees with a fair girl minimum qualification 10.