MY TIMES TODAY. Beautiful, glowing skin starts with how we eat, but these anti-ageing foods can also help with more than that.When we pack our diet with vibrant foods loaded with antioxidants, healthy fats, water, and essential nutrients, our body will show its appreciation through its largest organ: our skin. After all, the skin is often the first part of our body to show internal trouble, and there's only so much that lotions, creams, masks, and serums can do before we need to take a closer look at what's fueling us.
1.NUTS
No matter which nut you choose — Brazil, cashew, macadamia —they're all anti-aging heroes thanks to their cholesterol-lowering and anti-inflammatory effects, says Julieanna Hever, a plant-based dietitian. Aim for one to two ounces each day, as they're also fantastic sources of protein, fiber, and micronutrients.
2.FORTIFIED PLANT-BASED MILK
If you haven't tried non-dairy milk yet, Hever wants to know what you're waiting for. "Fortified plant milks are great for their optimal bone-supportive nutrients," she says. That also means they're great regardless of whether you're actually a vegetarian. "Include a serving or two of hemp, soy, almond, or rice milk — fortified with calcium and vitamin D — into your daily diet."
3.ENHANCED WATER
You know that hydration is critical when you want to look and feel your best, but if you're already dehydrated, fluids that have a little salt and sugar in them can actually hydrate you better than water alone, Kay says. "Try diluting fruit juice (half water, half unsweetened juice), and add a pinch of salt," she suggests. It'll give your skin cells the hydration it needs to get that glowing, dewy look.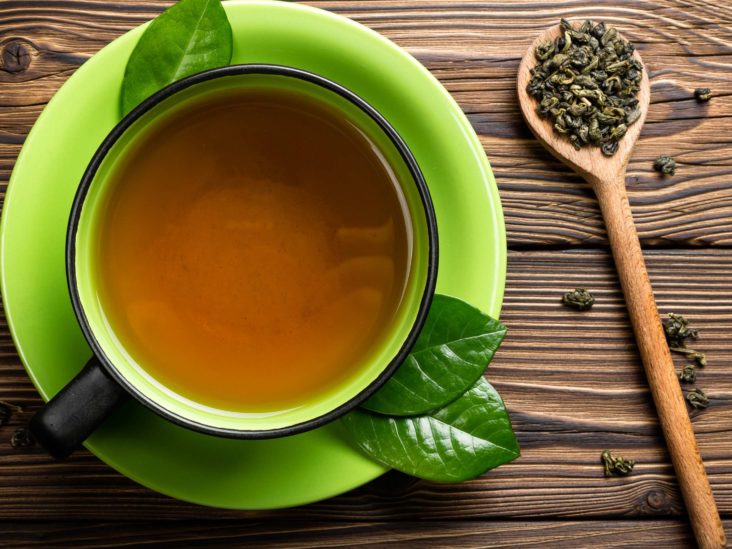 4.Green Tea
You might want to replace your morning cup of Joe with green tea if you want to look younger. "Green tea is particularly high in polyphenols, which protect collagen," explains De Fazio.
5.Dark chocolate
The antioxidant profile of dark chocolate is even more powerful than acai berries, blueberries and cranberries, De Fazio points out. "Chocolate contains antioxidants called flavanols, which protect the skin from sun damage," she explains.
In other studies comparing high-flavanol and low-flavanol cocoa on skin function, people in the high-flavanol groups experienced better blood flow to the skin and improvements in thickness, hydration and smoothness. But the higher the cocoa content, the higher the content. "So make sure to choose dark chocolate with at least 70 percent cocoa solids, " .